Dancing since the age of 5, Lisette began her training in gymnastics. From there her education continued to Hula, Ballet, Jazz, Modern, Ballroom, Argentine Tango and Theater. She received her B.A. Degree from Northeastern University in Speech Communications concentrating in Television and Film production with a Minor in Theater. She has worked in the Film industry for over 17 years and won Canada's Lotus award for 'Producer of the Best PSA Commercial' in 1996.
She danced and performed with the Northeastern Dance Theater Company from 1986-1988, where she did Choreography under the direction of Sarah Umberger. She was very involved in theater since childhood where she not only acted, sang and danced, but also choreographed numbers for the musicals, "Ghetto" , "Working" and "Blood Tango". She has since done choreography for a music video for the singer Jenifer Taylor, as well as many weddings and performances.
She was a member of the Argentine performance company Ballet Pampa Argentina under the direction of Pampa Cortes for 2 years. She starred in 3 tango film shorts, "Burn", "Tango in the Park" and "Tango Fatal". She has also performed on television for KQED San Francisco and Univision San Francisco along with leading roles in stage shows of "Love Junkies" and "Tango Fatal" under the direction of Jorge Torres as well as countless stage and private events.
Lisette trained in Argentine tango with Julian "Miller" Ramil, Pampa and Valeria Cortes, Fabian Salas and Carolina del Rivera, Mariana Flores and Eduardo Cappussi, Julio Balmeceda and Corina de la Rosa, Mariano "Chicho" Frumboli, Mariana Dragone, Sabastian Arce and Mariana Montes, Carlos Gavito, El Flaco Dany Garcia, Omar Vega, Daniel Juarez and Alejandra Armenti and many others. She has spent extensive time in Buenos Aires training and teaching as well.
She has taught tango in the Bay Area including San Francisco, Oakland, Emeryville, Berkeley, San Rafael, Fremont, Castro Valley. Healdsburg, Other locations in California include Monterey, Santa Cruz, Los Angeles, Mendocino, Ft. Bragg and Ukiah. She has taught in Bozeman , Montana, Helena, Montana, Palm Beach, Florida, Honolulu, Hawaii, The Big Island of Hawaii and Buenos Aires, Argentina as well.
Lisette has taught and performed with many well known dancers, such as: Pampa Cortes, Julian Ramil, Jorge Torres, Roberto Reis, Facundo Pasadas, Eduardo Saucedo, Diego Lanau,Count Glover, Ramada Salieri, Alexander Moncada, Leonardo Pankow, Alexander Sosa, Rodolfo Saile and Martin Almiron.
Lisette has trained US Argentine Tango Champions and has been a judge for April Follies 2019.
Presently, she is teaching locally in the Bay Area and Hosts the popular Milonga Rubia. She often organizes for traveling Argentine teachers that come to the San Francisco Bay Area. Lisette still dabbles with her own documentary on tango. She is an elegant dancer and patient teacher who concentrates on the techniques necessary for smooth, powerful and beautiful dancing. She works with the whole body focusing on connection, embrace, alignment, lines and beautifying steps.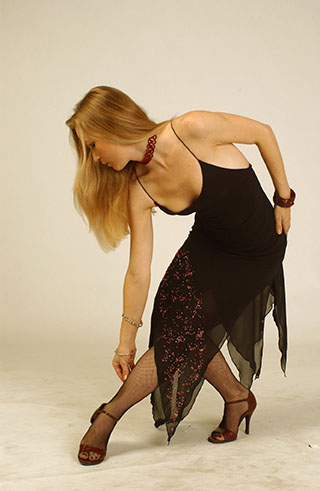 Photo by Randy Fisher